Lowee is the nation in the northern region of Gamindustri ruled by the CPU White Heart in the Ultra Dimension.
Geography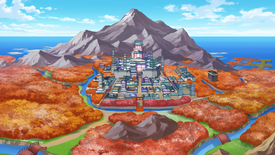 Lowee has a traditional Japanese styled theme. Instead of a perpetual winter, it is late fall with red leaves and only slight patches of snow. Lowee is situated in the northern region of Gamindustri.
Dungeons
Victory
Re;Birth3
Lost Places
Denizens
Story
Hyperdimension Neptunia Victory
Hyperdimension Neptunia Re;Birth3
Videos
Gallery
Ad blocker interference detected!
Wikia is a free-to-use site that makes money from advertising. We have a modified experience for viewers using ad blockers

Wikia is not accessible if you've made further modifications. Remove the custom ad blocker rule(s) and the page will load as expected.