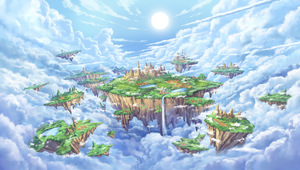 Leanbox is the landmass protected by the CPU Green Heart. It is also known as the Land of Green Pastures. This land is filled with beauties of nature and fresh air. It may possibly be the most peaceful of all the lands.
Geography
Leanbox is a nation that has a medieval theme. This landmass, like the others, is floating in the sky. However, unlike Lastation or Lowee, Leanbox is abundant with nature and filled with green pastures, hence its title. Aside from that, there are also numerous mountains in Leanbox which compliment its old fashioned look. Much like the other nations, Leanbox is surrounded by smaller islands that are attached to it by cable cords for the lift to take them to and from the mainland.
Dungeons
HDN
Re;Birth1
Denizens
Story
Hyperdimension Neptunia
Hyperdimension Neptunia Re;Birth1
Gallery
Ad blocker interference detected!
Wikia is a free-to-use site that makes money from advertising. We have a modified experience for viewers using ad blockers

Wikia is not accessible if you've made further modifications. Remove the custom ad blocker rule(s) and the page will load as expected.