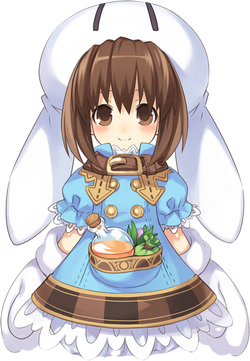 Gust (がすと, Gasuto) is a traveling alchemist and cutthroat entrepreneur. She represents the company Gust Incorporated and her design and occupation is based on the Atelier series.
Other Appearances
Anime & Manga
Hyperdimension Neptunia: Megami Tsuushin
Non-Neptunia Appearances
Nights of Azure
Trivia
In the Hyperdimension Neptunia mk2 popularity poll, Gust has come in 12th place, making her one of the least favorite characters from the first Hyperdimension Neptunia. 
Gust says that she is from a country called Salburg. This references Salburg, a setting in Atelier Marie: The Alchemist of Salburg.
Ad blocker interference detected!
Wikia is a free-to-use site that makes money from advertising. We have a modified experience for viewers using ad blockers

Wikia is not accessible if you've made further modifications. Remove the custom ad blocker rule(s) and the page will load as expected.